Solax Power X1-Air Inverter 3kW
SolaX have developed a range of single phase inverters unrivalled in the industry for their quality, reliability and efficiency. The SolaX Power X1-Air single phase inverter boast a wide MPPT voltage range to allow for more energy harvesting and have a maximum input voltage of 580V, with a maximum efficiency of 97.1%.
In addition, SolaX single phase inverters are IP65 rated, have no internal fan and come with optional 'plug & play' WIFI.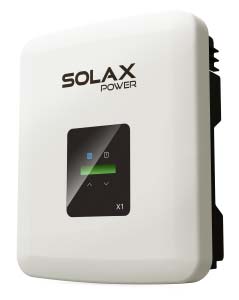 Perfect For Residential PV Arrays

The X1 Air  is the ultimate small residential solar inverter, perfectly designed for homes with solar panels on one single side of the roof. The X1 Air is also IP65 rated meaning it can be installed outdoors and comes with WiFi capability meaning you can monitor your solar production from anywhere in the world.
Simple, Reliable, Efficient
The SolaX X1 Air is amongst some of the most efficient residential string solar inverters available on the market today, boasting a massive 97.1% efficiency and with a maximum DC voltage of 580V, you can ensure that you are making the most out of your solar energy.
Install Indoors Or Outdoors
The X1 Air is IP65 rated meaning that it can be installed either inside or outside, giving you the flexibility to choose where to install the system.