LENKENG LKV383 Matrix TX / RX HDMI Extender 

The LENKENG LKV383 Matrix HDMI extender applied advanced HDbitT over IP technology uses Lan switch supporting IGMP to construct a many to many HDMI extender matrix funcution. It allows up to 99 pcs transmitters and unlimited receivers in theory. This product delivers reliable HDMI signal over single CAT5/5e/6 cable up to 120m/394ft.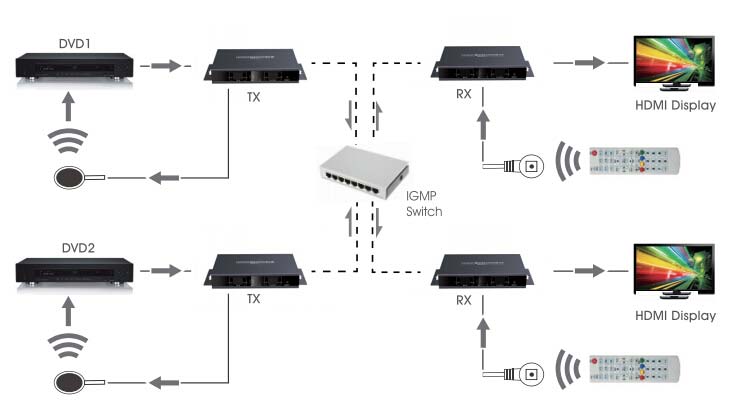 Features:
Route multiple HDMI sources to multiple HDMI devices through Lan switch supporting IGMP

Offer scalable and flexible input-output matrix configuration, allows 99 input to infinite output.

The highest resolution supported is up to 1080P@60Hz>

Deliver HDMI signal up to 120m over network cable

CAT5/5e/6 cable compatible

Support point to point and point to multipoint connection

Support IR pass back function to control source device from RX location.

Support computer control software to select and switch source device input.

Plug and play.

Support to select and switch source device input from receiver via remote control and hard button.
HDMI signal

HDMI1.3, compliant to HDCP

Network bandwidth

18Mbps

Supported resolution

480i@60Hz, 480p@60Hz, 576i@50Hz, 576p@50Hz,




720p@50/60Hz, 1080i@50/60Hz, 1080p@50/60Hz

Audio format

PCM

TMDS signal

0.7 ~ 1.2Vp-p

DDC signal

5Vp-p

IR passback

Supports 20 ~ 60KHz IR devices

Matrix configuration

Up to 99 source signals can be connected and switched to infinite output

Power supply

5V/1A

Power consumption

4W

Dimensions

133.8 x 83.8 x 23.8mm

Colour

Black