LENKENG LKV383VGA VGA Extender with Audio Over IP CAT6
LENKENG LKV383VGA VGA Extender with 3.5mm audio extends VGA signal and analog audio up to 394ft/120m over just one CAT6 cable. It saves cable cost and supports RGBHV signal input.
1.Point to Point Connection


2.One-To-Many Connection

3.Router Connection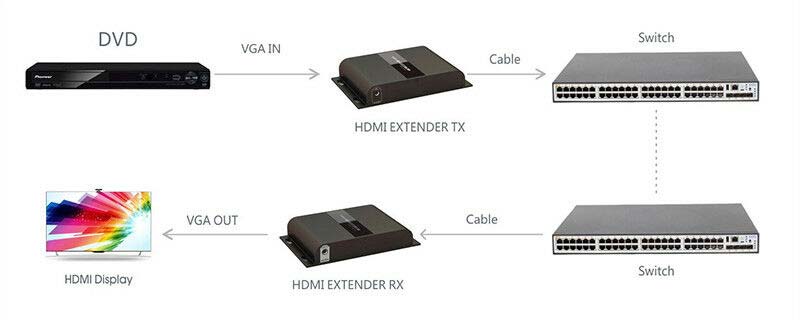 Features
-Apply advanced HDbitT transport protocol
-Extend VGA and analog audio over single CAT5/5e/6 cable
-Supports resolutions up to 1920×1080@60Hz>
-Transmit VGA signal up to 394ft/120m
-Support RGBHV input
-Support 3.5mm audio jack
-Cascade connection to split and extend VGA signal unlimitedly
-High-end aluminum alloy enclosure design
Items Specification
VGA signal format: RGBHV
Transport protocol: HDbitT
VGA resistance: 75Ω
Support Resolution:
1920×1080@60Hz;1680×1050@60Hz;1440×900@60Hz;1360×768@60Hz;1280×1024@60Hz;1280×960@60Hz;1024×768@60Hz;1280×720@60Hz;800×600@60Hz
Transmit Distance: Transmit 1080P signal over cat6 up to 120 meters, CAT5:80m, CAT5E:100m, CAT6:120m
It transmits up to 150meters over higher quality level network cable.
Audio: 3.5mm audio jack
Working temperature: 0℃~60℃
Power supply: DC5V/2A *2PCS
Power consumption: TX<7.5W RX<7W
Product Dimension: 138x90x23.8mm *2pcs
Weight: TX:215g RX: 215g
Color: Black